Over 1750 shoppers and business owners in Lewes have signed a petition objecting to a proposal by East Sussex County Council to double parking charges on the High Street.
The petition was delivered by Lewes Councillors and Lewes Chamber of Commerce today (Thurs 8/8/19) to Simon Bailey, Democratic Services Officer at East Sussex County Council, which is holding a public consultation over plans to increase the cost of parking.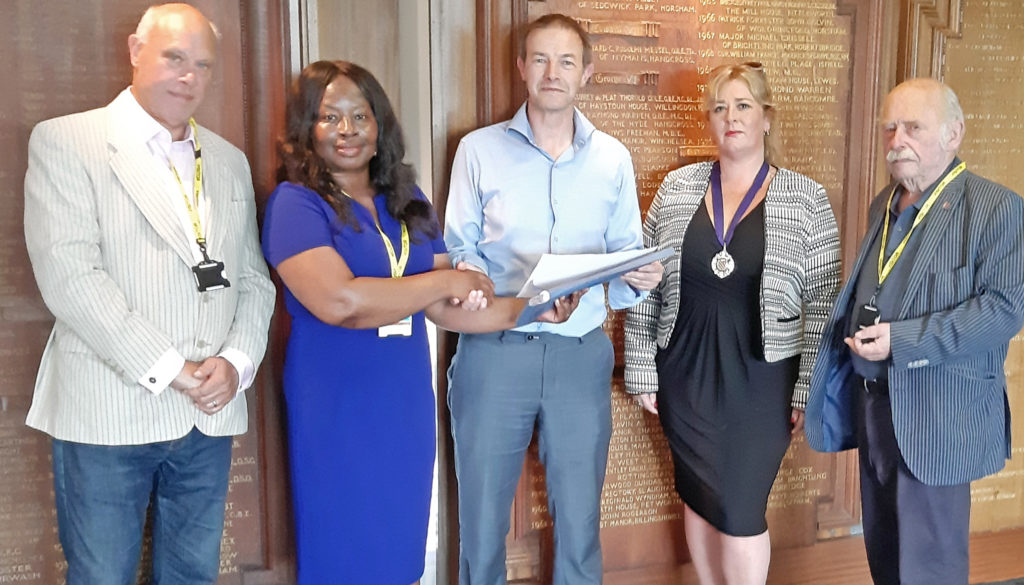 "This increase is really bad news for hard-pressed businesses who are already facing rent increases and online competition," said Lib Dem Town Councillor Janet Baah. "The higher cost of parking will deter people from visiting traders in the centre of Lewes. We urge the County Council to keep charges as they are."
Under the proposals a 15-minute stay would double from 50p to £1, while the cost of two hours' parking would go up from £4 to £7.80. Similar increases are proposed for towns across East Sussex, although off-street car parks run by Lewes District Council are not affected.
"Higher parking costs will keep cars out of Lewes, which may be good for the environment," said Independent Councillor Stephen Catlin. "But without better public transport and improved traffic management the environmental benefit will come at the expense of jobs and the Lewes economy."
Some 136 businesses on Lewes High Street objected to the increases and asked their customers and clients to sign petition forms.
"Parking charges impact on how long visitors remain in Lewes (or even visit) and, consequently, how much they spend whilst here," said Clare Crouch, President of the Lewes Chamber of Commerce. "Businesses are already struggling with the high rents and rates in the Town and, by being integral in reducing the footfall, perhaps ESCC should be looking at ways to support and promote the local business community in a more positive manner."
Some traders have argued for an initial free period of parking of half-an-hour, which would encourage people to make quick visits to traders.
For further information contact:
Janet Baah 07709968337
Stephen Wischusen 07803774858
John Lamb 07877972375
Photo
(L-R) John Lamb, Mayor of Lewes, Cllr Janet Baah, Simon Bailey of East Sussex County Council, Clare Crouch, President of Lewes Chamber of Commerce, Cllr Stephen Catlin